We will provide all the support you will be needing in preparation for your daily life. Moreover, our high quality training system will assist you to obtain the necessary skills needed in order for you to become a certified nursing care expert in our facilities.
We are encouraging you to be part of our team. We would like you to feel this once in a lifetime experience that we have right now. Come and join us as we provide high quality nursing care and holistic client care, and through our continuous efforts make our patients happy.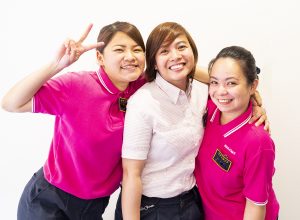 We are looking forward to seeing your beautiful smiles as we work together here at our dear facility.
We will be waiting for you!
Support your Wakatake Life!
Each facility has a help desk to support your daily life. Filipino staff is able to consult in both Tagalog and English. We also have a high level training system, which helps you to learn within working hours. Thus, you can take two days off a week.
Training in each facility
You have chances to learn about risk management infection prevention, dementia care, critical care, and law and regulation. You can also join committee activities to improve your care technology level.
Support Program for Certified Care Worker
Instructors from care worker training school run programs to pass the state examination for certified care worker.
Japanese Language Training Program
Certified Japanese instructions run programs for you to acquire terminologies, daily conversation as well as the writing and reading Kanji (Chinese Characters.)